Safeguarding and Wellbeing at St. Joseph's Moorthorpe
At St Joseph's Catholic Primary School Moorthorpe, all staff treat the safeguarding of pupils as upmost priority, by ensuring they take safeguarding duties seriously
and promote the wellbeing of all our children by:
Ensuring a safe learning environment for all children.
Promoting a shared responsible for the wellbeing of children.
Developing and implementing robust measures to help us identify and report any safeguarding concerns.
Working with other agencies to support children and families.
Keeping updated and well informed to help raise awareness and understanding of Child Protection issues.
Promoting an awareness and understanding of how children can keep themselves safe.
Safeguarding and promoting the wellbeing of children is defined as:
Protecting children from maltreatment.
Preventing impairment of children's health or development.
Ensuring that children grow up in circumstances consistent with the provision of safe and effective care.
Early intervention from professionals to enable all children to have the best possible outcomes.
If you are worried or have concerns regarding the safety or wellbeing of a child, please contact one of our designated staff members on:
01977 651755, or contact Social Care Direct on 0345 8503 503.
Designated Safeguarding Lead with responsibility for Child Protection Issues: Mr Luke Welsh (Head of School)
Designated Deputy Safeguarding Lead with responsibility for Child Protection Issues: Mrs Kath Daley (Safeguarding, Pastoral, Behaviour and Attendance Manager)
Designated Safeguarding Staff Member: Mrs P Millard (SENDCO) & Mrs T Rowley (School Business Manager)
Wakefield Children's Charter
St Joseph's has signed up, supports and follows 'The Children and Young People's Safeguarding Charter', an agreement which we are committed to putting into practice and applying its principles.
The Charter was officially launched by Wakefield & District Safeguarding Board, in May 2016, in conjunction with more than 200 young people across the authority, who gave their views and ideas.
The document below outlines the expectations of how schools, health and social care agencies, as well as the police, can support young people in enabling them to thrive and achieve.
Young people have stressed that they want to be listened to, kept safe, taken seriously and be treated with care and respect.
The Charter also sets out a series of pledges that apply to all staff working with young people, including making a personal commitment to be professional, to be trained, to know what to do and to show respect and understanding.
Useful Safeguarding Documents for Parents:
Cyber Safety Helpsheet Voulme 1. pdf
Cyber Safety Helpsheet Volume2. pdf
DFE Advice for parents/carers on cyber bullying
E-Safeguarding Sites Information for Parents
How St Joseph's keeps you safe in school - January 2016 Leaflet
How St Joseph's keeps you safe in school - January 2016 Accompanying Letter
Inappropriate websites - fact sheet
Risks children face online - advice for adoptive parents
Risks children face online - advice for foster carers
Supporting young people online
Supporting young people online (Polish Version)
Social Networking Leaflet 16/17
Tackling Radicalisation & Extremism Policy



http://www.westyorkshire.police.uk/cse/onlineguides
http://www.nspcc.org.uk/preventing-abuse/keeping-children-safe/
http://www.theparentzone.co.uk/school
https://www.nspcc.org.uk/globalassets/documents/advice-and-info/home-alone-guide-keeping-child-safe
http://www.familiesmatter.org.uk/
http://www.educateagainsthate.com/
Year 5 & 6 Childline Assembly & Workshop

Two NSPCC volunteers visited Upper Key Stage Two, to deliver an assembly and workshop, to help us understand the different types of abuse, how we can recognise these and who to contact, if a problem occurs. We all found this extremely useful; it gave us a lot to think and talk about in class.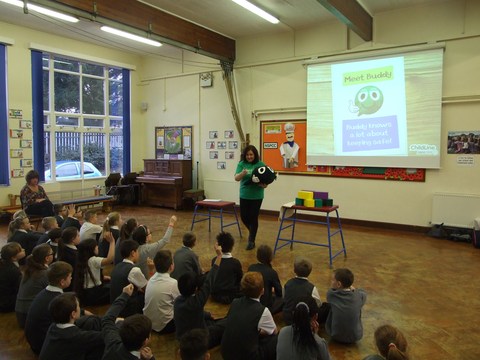 Keeping Myself Safe Week

During our special week, dedicated to raising awareness about how children can keep themselves safe, the children learnt about who they could talk to if they were worried, both in school and in the community. We also signed up to the 'Wakefield Children's Charter', with each class having their own charter displayed in the classroom. The overall purpose of the week was to ensure our children understood the importance of keeping themselves safe and ways they could do this.
Please see the links on our
Safeguarding page, of useful websites for parents and carers.